The Founder of WAY TKD - Ista Gurung
Way Taekwondo was established in January 2014 and is affiliated with British Taekwondo, Governing body of World Taekwondo (WT) in the United Kingdom. Mr Ista Gurung Chief Instructor started his Taekwondo career in 1995 in Chitwan Nepal and awarded 1st Dan Black Belt on the 30th December 1998 by the Nepal Taekwondo Association, presented by the then sports minister of Nepal Mr Rukma Shamsher Rana. Ista joined the British Army as an infantryman in the 1st Battalion Royal Gurkha Rifles in 2001. Ista continued to progress within Tae Kwon Do and was awarded his 2nd Dan in 2005 and 3rd Dan in 2008 from his Grand Master Indra Gurung, (President of Zen Martial Art Academy (ZMA). Recently, Ista was awarded with 4th Dan & 5th Dan Black Belt by British Taekwondo.
Today, Taekwondo (WT) has become a global sport that has gained an international reputation, and stands among the official games in the Olympics. All our instructors are DBS checked (Disclosure and Barring Service previously CRB), fully Insured with British Taekwondo public liability insurance policy and qualified safe guarding officer.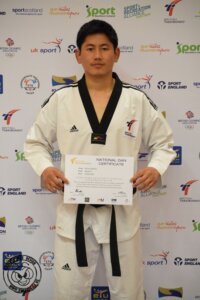 During Ista's Taekwondo career he has competed at all levels from County to World Championships. He has also represented the Army within Tri-service and combined Service until 2012. Ista has won numerous Championship Medals within various disciplines including Sparring, Poomsae and Weapons (Kukri). While in the British Army, Ista was awarded the 2012 Sports Man of the year and retired in 2013. He has taught Tae Kwon Do at various venues in the UK, Nepal, Brunei and Germany since 1998 and has continued his passion for the sport by teaching at various Tae Kwon Do Seminars.
Way TKD has fully qualified and experienced instructors. Our instructors have varied secular backgrounds, including valuable knowledge of British Army physical training techniques.
What is Tae Kwon Do?
Taekwondo is one of the most systematic and scientific Korean traditional martial arts, that teaches more than physical fighting skills. It is a discipline that shows ways of enhancing our spirit and life through training our body and mind. Today, it has become a global sport that has gained an international reputation, and stands among the official games in the Olympics.
Let's take a closer look at the meaning of the word "Tae" "Kwon" "Do." It is composed of three parts as shown in the English spelling, though it is one word in Korean. "Tae" means "foot," "leg," or "to step on"; "Kwon" means "fist," or "fight"; and "Do" means the "way" or "discipline." If we put these three parts together, we can see two important concepts behind "Tae Kwon Do".
First, Taekwondo is the right way of using Tae and Kwon 'fists and feet,' or all the parts of the body that are represented by fists and feet. Second, it is a way to control or calm down fights and keep the peace. This concept comes from the meaning of Tae Kwon 'to put fists under control' [or 'to step on fists']. Thus Taekwondo means "the right way of using all parts of the body to stop fights and help to build a better and more peaceful world."
Taekwondo has been developing with the 5000-year long history of Korea, being called by several different names in the course. In Korea, Taekwondo began as a defense martial art called "Subak" or "Taekkyon," and developed as a way of training body and mind in the ancient kingdom of Koguryo, under the name of "Sunbae." In the Shilla period, it had become the backbone of Hwarangdo that aimed at producing leaders of the country.
Taekwondo today is similar to the martial arts in other Oriental countries and shares some features with them, because in the course of its evolution it has gained many different styles that existed in the martial arts of the countries surrounding Korea, like Japan and China.
But Taekwondo is very different from many such oriental martial arts. First, physically it is very dynamic with active movements that include a mirage of foot skills. Second, the principle physical movements are in simpatico with that of the mind and life as a whole. Third, it possesses dynamic poses from another perspective.
Taekwondo can be characterized by unity: the unity of body, mind, and life, and the unity of the pose ["poomsae"] and confrontation, and cracking down. When you do Taekwondo, you should make your mind peaceful and synchronize your mind with your movements, and extend this harmony to your life and society. This is how in Taekwondo the principle of physical movements, the principle of mind training, and the principle of life become one and the same. On the other hand, the right poomsae lead to the right confrontation, which will eventually produce great destructive power.